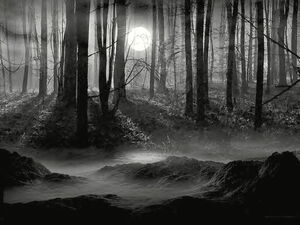 Welcome to The DarkRealms Universe
Edit
The DarkRealms universe is centered around a small fictional town in the North East called Ravencrest. The epicenter of the strange supernatural occurences seems to be the old Ravencrest manor that makes up the main building of the college there, Ravencrest University. Lord Ravencrest donated his large manor to the city to make a college at the turn of the 20th Century then vanished. Since his disappearance, a lot of strange and unusual stuff has happened on the university grounds and the surrounding town.
The universe has expanded to many other towns since its creation including Skogshaven, a small fictional town in New England.
The DarkRealms universe is home to a lot of strange and supernatural beings, chief among them vampires. But there are a lot of creatures that go bump in the night actually.
Please note
Edit
As the target audience for this site includes universe authors (both current and potential), you may encounter spoilers in the form of general universe information or characters who have yet to be revealed in the course of stories. As the saying goes: If you don't want to know the results,look away now.
Thinking of writing?
Edit
Please read the Author Guidelines document before putting pen to paper (well, fingers to keyboard!) You will find it a very useful introduction and stepping stone to discovering how the universe works.
For a list of story ideas that are not going to make it into DRU, ever, check here. This should give you an idea of some concepts that just don't cut it. Please check there if you have a wonderful new idea, and want to make sure that it still has a place in the Universe.
This Wiki
Edit
As this site is a wiki, you can not only read up on the Universe and how to write for it, you can also add / edit articles here. The primary editors are the founder and the canon authors, but avid readers are welcome to contribute too. The founder's user page has some tips on good practice.
Latest activity
Edit